Octadecyl Dimethyl Benzyl Ammonium Chloride-ODBAC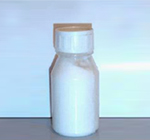 Product name: Octadecyl Dimethyl Benzyl Ammonium Chloride (ODBAC)
Specification:
Appearance: Colorless or light yellow liquid or cream
Content of actives: 50%-80%
PH value:  5.5-8.5
Properties:
Light yellow liquid with perfume odor; easily soluble in water; good chemical stability; good resistance to heat and light.
Application:
1. Assay is 45%, Octadecyl Dimethyl Benzyl Ammonium Chloride liquid can be used as bactericide, mildew inhibitor, softener, antistatic agent, emulsifier, regulator.
2. Sterilization algaecide: used in circulating cooling water, water for power plant and water injection system of oil fields.
3. Disinfectant & bactericide: Used for medical operation and medical appliance; food processing equipments; sugar making industry; silkworm raising sites etc.
4. Can be used as emulsifier, sterilizer, antistatic and antiseptic agent and so on.
Packing & Storage:
50 kg/plastic drum or 160kg/plastic drum, Kept in dry and ventilating place. Do not mix with strong alkali.