Didecyl Dimethyl Ammonium Chloride-DDAC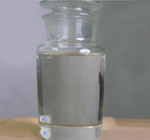 Product name: Didecyl Dimethyl Ammonium Chloride (DDAC)
CAS NO.: 7173-51-5
Specification:
Appearance: Colorless or light yellow liquid
Content of actives: 50%-80%
PH value: 5.5-8.5
Characteristic:
Didecyldimethylammonium chloride is an antiseptic/disinfectant, which is used in many biocidal applications. They cause disruption of intermolecular interactions and dissociation of lipid bilayers. They are Broad spectrum Bactericidal and Fungicidal.
Usage: 
1. Didecyldimethyl Ammonium Chloride can be used as Disinfectant Cleaner for Linen recommended for use in hospitals, hotels and industries .
2.
Didecyl Dimethyl Ammonium Chloride
is also used in Gynaecology, Surgery, Ophthalmology, Pediatrics, OT, for the sterilization of surgical instruments, endoscopes and surface disinfection.
3. Can be used as emulsifier, sterilizer, antistatic and antiseptic agent and so on.