Dodecyl Dimethyl Betaine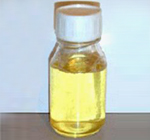 Product name: Dodecyl Dimethyl Betaine
Other name: Laruyl Betaine, BS-12, Betaine Amphoteric Surfactant
Specification:
Appearance: yellowish transparent viscous liquid
Content of active substance: 30±2%
Content of free amine: ≤1.0%
Content of NaCl: ≤8%
PH value(5% solution ,25°C): 6-8
Properties and Use:
Dodecyl Dimethyl Betaine
appearance is yellowish transparent viscous liquid. It is amphoteric surfactant,can dissociate in water, can be compatible with all kinds of dye,surfactant and material of cosmetics.
BS-12
is stable to sodium hypochlorite, never to be heated over 100°C for a long time.Stable in acid or base, has excellent compatibility.
Dodecyl Dimethyl Betaine liquid
is low irritant to skin,good at biological degradation. It has excellent performance such as softening, antistatic, hard water resistance and rust inhibitor, can be used for preparing shampoo,foaming bath,sensitive skin preparation, cleaning agent for children use etc. Also be used as softening agent and anti-static agent for fibers and fabrics, calcium soap dispersing agent, bactericide and disinfectant detergent, gelatinizing emulsifier in rubber industry, wool shrinking agent and fire-extinguishing foaming agent etc.